Fondation Maurice Ravel Award
FONTAINEBLEAU SCHOOLS
The Fondation Maurice Ravel has added three new Fondation Maurice Ravel International Awards as part of its new partnership with the Fontainebleau Schools. This partnership highlights the historically close collaboration between Maurice Ravel and the Schools, founded in 1921.
The Awards of Maurice Ravel Foundation will be given at the end of the 2015 session of the Fontainebleau Schools, honoring the work of the best interpreters of the Ravel repertoire. The Competition participants, selected from among the most prestigious foreign universities, will be among the 31 music students received from Monday July 6 to Saturday, August 1st at the Château de Fontainebleau.
The Competition followed by the award ceremony will take place on Tuesday, July 28, 2015 beginning at 2pm in the Salle des colonnes (Hall of Columns) of the Château de Fontainebleau. Admission free.
Program for the 2015 summer session of the Fontainebleau Schools
CONCERTS
Samedi 11 juillet
Récital de Philippe Bianconi
Chopin, Mantovani, Debussy
Théâtre de Fontainebleau, 18h30
Samedi 18 juillet
Conférence-concert d'Isabelle Duha
Debussy
Salle des colonnes, 15h
Concert de Philippe Graffin (violon), Bruno Pasquier (alto), Pierre-Henri Xuereb (alto), Diana Ligeti (violoncelle), Alain Meunier (violoncelle), Christian Ivaldi (piano)
Pierné, Schoenberg
Chapelle de la Trinité, 17h
Samedi 25 juillet
Concert de Gérard Poulet (violon), Françoise Gneri (alto), Diana Ligeti (violoncelle), Frédéric Aguessy (piano), Isabelle Vigneau (piano)
Ravel, Bridge, Brahms
Chapelle de la Trinité du château de Fontainebleau, 17h
Samedi 1er Août
Concert de Alexis Galperine (violon), Françoise Gneri (alto), Christian Ivaldi (piano), Isabelle Duha (piano) et tous les étudiants
Piazzola, Ravel, Lavignac
Chapelle de la Trinité du château de Fontainebleau, 14h30
Billetterie sur place 20€ – 5€ étudiants
Samedi 1er Août à partir de 16h dans les Jardins du château
Fin de la session : performances des architectes et des musiciens
MASTERCLASSES
Chapelle de la Trinité du château
Lundi 13 juillet 10h et 14h
Philippe Bianconi, piano
Mercredi 15 juillet 14h
Jean Sulem, alto
Jeudi 16 juillet 14h
Jean-Claude Pennetier, piano
Vendredi 17 juillet 10h et 14h
Philippe Graffin, violon
Lundi 20 juillet 10h et 14h
Raphaël Merlin, quatuor à cordes
Jeudi 23 juillet 13h30
Jay Gottlieb, piano contemporain
PRIX DE LA FONDATION MAURICE RAVEL
Salle des colonnes du château
Mardi 28 juillet, 14h
Entrée libre.
AUDITIONS
Salle des colonnes du château
Vendredi 24 juillet, 16h
Lundi 27, 16h
Mercredi 29, 16h
Jeudi 30 juillet, 16h
Vendredi 31 juillet, 16h
Auditions d'élèves : piano, musique de chambre, pièces des compositeurs
Entrée libre.
Dimanche 26 juillet, 16h
AVON – parc de BEL EBAT
Entrée libre.
LONG-THIBAUD-CRESPIN INTERNATIONAL COMPETITION, PIANO SESSION 2015
The Fondation Maurice Ravel will present the Award of the Fondation Maurice Ravel as part of the 2015 piano session of the Long-Thibaud-Crespin Competition.
The Foundation is committed to rewarding pianists by honoring the finest interpretation of a work by Maurice Ravel.
This initiative also helps to perpetuate the ties of musical friendship shared between Marguerite Long and Maurice Ravel.
http://www.long-thibaud-crespin.org/fr-fr/le-concours-de-piano/les-recompenses-piano.html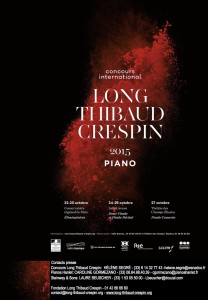 Chairman of the jury: Stephen KOVACEVICH (US)
Born in Los Angeles, Stephen Kovacevich made his debut in California when he was 11 years old. At 18 he moved to England and worked with Dame Myra Hess. Although renowned for his classical interpretations, his musical tastes are very eclectic, and composers such as Rodney Bennett, John Taverner and Stephen Montague him dedicated scores to him. Invited by the greatest orchestras and the greatest conductors, he is also dedicated to chamber music. This is evidenced by his recording of the Sonatas for cello and piano by Beethoven with Jacqueline du Pré and his Bartok records with Martha Argerich. His musical partners also include Steven Isserlis, Kyung-Wha Chung, Nigel Kennedy, Renaud and Gautier Capuçon, Truls Mørk, Emmanuel Pahud. He is also a conductor and made his conducting debut with the Houston Symphony Orchestra in 1984. He has been principal guest conductor of the Australian Chamber Orchestra. Her repertoire includes works by Mozart, Beethoven, Brahms, Tchaikovsky and Sibelius. After an extensive discography for Philips, he also recorded Brahms concertos with Wolfgang Sawallisch for EMI. Recently appearing: the Diabelli Variations of Beethoven and a Chopin and Ravel recital.
Competition round calendar
October 22-23 Qualifiers 12pm-10pm
October 24 Semi-finals 9:30pm and 2pm
October 25 Final recital 4pm and 8pm
October 27 Final concerto 8pm
Commemoration of the 90th anniversary of the Ravel's journey to the United States
A series of musical and academic events will be organized in the United States throughout 2018 by Fondation Maurice Ravel. The program will seek to trace – geographically or symbolically – the long American tour undertaken by Maurice Ravel in 1928. This celebration will record the journey of the composer in the tradition of the great cultural trips in the first half of the twentieth century.
The President of the Foundation and a member of the Board traveled twice to the United States to meet potential patrons and persons appreciative of Maurice Ravel's stature. The Fondation received a warm welcome from the Morgan Library, the New York Public Library, the New York Philharmonic Orchestra and the Juilliard School.
In April 2015, the New York Philharmonic Orchestra and its director, Maestro Alan Gilbert, came to give two concerts in the Philharmonie de Paris. Mr. Gilbert was welcomed at the home of Maurice Ravel, Le Belvédère, with a private visit, thereby strengthening the ties between the famous orchestra and the Fondation.
The famous American biographer of Maurice Ravel, Arbie Orenstein, agreed to support the Fondation on this ambitious American project.
On September 17 and 18, 2015, a delegation from the Fondation Maurice Ravel will travel to New York for a series of meetings for the preparation of this celebration, scheduled for 2018.
American Tour
On January 4, 1928, Maurice Ravel disembarked in New York. The composer's grand tour begins under the direction of the organizer and pianist Elie Robert Schmitz.
Sometimes a conductor and sometimes a pianist, Ravel gives numerous concerts, performing his works in the course of a rich and varied program. Serge Koussevitzky, the famous conductor of the Boston Philharmonic Orchestra, hands the conducting of the orchestra over to Maurice Ravel, who will conduct Le Tombeau de Couperin, Rapsodie espagnole and La Valse and others.
Interviews and receptions follow one after another. Ravel meets Douglas Fairbanks and Mary Pickford at a luncheon in Hollywood. In honor of the 53th birthday of the composer, a dinner is organized with the singer Eva Gauthier on March 7, 1928. Ravel makes the acquaintance of George Gershwin. Ravel makes the acquaintance of George Gershwin. Gershwin's performance of his Rhapsody in Blue and The Man I Love commands Ravel's admiration, who was a great lover of jazz.
Finally, on April 27, 1928, the composer arrives in Le Havre, closing a journey of several months that will significantly consolidate his great reputation overseas.
The stages of the tour
New York, New York
Boston, Massachusetts
New York, New York
Chicago, Illinois
Cleveland,
Chicago, Illinois
San Francisco, Californie
Los Angeles, Californie
Seattle, Washington
Vancouver, Colombie Britannique
Portland, Oregon
Denver, Colorado
Minneapolis, Minnesota
Kansas City, Missouri
Omaha, Nebraska
Minneapolis, Minnesota
New York, New York
Montréal, Québec
New York, New York
Chicago, Illinois
Niagara Falls, Ontario
Toronto, Ontario
Milwaukee, Wisconsin
New York, New York
Boston, Massachusetts
Nouvelle-Orléans, Louisiane
Houston, Texas
Grand Canyon, Colorado
Buffalo, New York
Montréal, Québec
New York, New York